Jeder, ob Kunde oder Freund, weiß, wie sehr ich Lucinda Riley vergöttere. Ich liebe jedes einzelne ihrer Bücher und mein größter Traum ist es, sie einmal live zu erleben. Immerhin haben wir bereits einen sehr lieben Mailkontakt, weswegen sie mir heute Rede und Antwort in weihnachtlichen Belangen steht. Das Interview ist auf englisch und ich hoffe jeder versteht es. (Verzeiht meine grammatikalischen Fehler, falls welche da sind ;))
---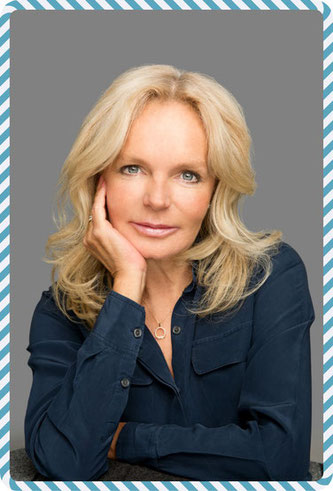 Tell us something about you. Who are you? What genre are you writing and why? And most importantly, how do you feel about Christmas? Are you already in Christmas fever or are you rather the type Grinch?
I am Lucinda Riley, an Irish author who has published the following books in the German language: Das Orchideen Haus, Das Madchen auf den Klippen, Der Lavendel Garten, Die Mitternachts Rose, Das Italienische Madchen, Der Englsbaum, Helenas Geheimnis, Die Sieben Schwestern, Die Sturm Schwester, Die Schatten Schwester. I am currently writing the fourth book in 'The Seven Sister's series – The Pearl Sister - which is set in Australia and Thailand. The first three books have now been published and a Hollywood production company has optioned the entire series. I absolutely LOVE Christmas – it is my most favourite times of the year. My children and I get very excited and only this weekend we went and bought more Christmas decorations and the weeks leading up to Christmas are my favourite time. We have two trees, one in the sitting room where the presents are put under and the other, which is 4 meters high, in our hallway.
What do you need for a perfect Christmas party?
The company is the most important of all with good music and mulled wine.
Favorite movie? Favorite song? Favorite book? Favorite food?
Every year we watch a lot of Christmas films. We all have individual favourites but mine and my husband's is 'It's a Wonderful Life'. My favourite song has to be Mary J Blige and Jessie J with 'Do you hear what I hear'.
My favourite book is Charles Dicken's 'A Christmas Carol' and my favourite Christmas food are the sausage rolls I make, even though I'm not allowed to eat them, because I'm a coeliac.
Have you ever failed with a gift?
I'm not saying much, or giving any details but, my husband …
What was your best / worst Christmas present?
My best present is the beautiful panther bracelet which my husband bought me last year after I'd finished writing the Shadow Sister. My worst was also from my husband – a post of William Shakespeare with my face superimposed over his. He had terrible legs!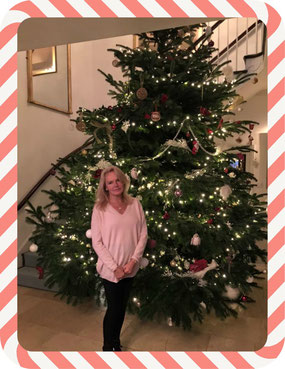 Do you buy Christmas gifts early enough or are you a last-minute buyer?
I'm definitely an organised shopper.
What is the most important thing for you at Christmas or Christmas time?
My family. We are a big family and now that two of my children are working and at university, it's wonderful to have them home and all the family together.
If money did not matter, how would you spend Christmas? Exactly the same as we do every year. We never go away – home is where Christmas is.
Have you already written a Christmas story? Tell us a Christmas story - whether it happened to you or your characters.
I won't have time to write you a Christmas story, however, 'Der Englsbaum' which is published in Germany is partly set at this time of year. Thirty years have passed since Greta left Marchmont Hall, a grand and beautiful house nestled in the hills of rural Monmouthshire, Wales. But when she returns to the Hall for Christmas, at the invitation of her old friend David Marchmont, she has no recollection of her past association with it - the result of a tragic accident that has blanked out more than two decades of her life. Then, during a walk through the wintry landscape, she stumbles across a grave in the woods, and the weathered inscription on the headstone tells her that a little boy is buried here . . . The poignant discovery strikes a chord in Greta's mind and soon ignites a quest to rediscover her lost memories. With David's help, she begins to piece together the fragments of not only her own story, but that of her daughter, Cheska, who was the tragic victim of circumstances beyond her control. And, most definitely, not the angel she appeared to be . . .